Now that travelling – at least in the traditional sense of the word – is off the picture for the foreseeable future (because we're being responsible citizens and staying home), virtual travel may be stepping up.
Ever since the coronavirus was declared a pandemic by the WHO (World Health Organization), the world appears to have hit the pause button. Because of the coronavirus lockdown, millions of people are forced to work from home (writer of this article included). Bars, restaurants, museums and even schools and universities have closed, and normally-crowded city streets and popular tourist sites are eerily bare.
The travel industry, especially, has taken a major hit as countries across the globe put up travel restrictions and entry bans, trying to contain the spread of the pandemic. Tourism is practically non-existent.
So, while we wait out the lockdown, more and more people have started turning to virtual travel to pass their time.
Virtual travel tours (which do sound very futuristic) offer a simulation of an existing place through a sequence of photos and videos. In most cases, you can navigate your way through the location yourself. While virtual travel is not just as good as the real thing – after all, there's so much more to travelling than just seeing places – as this point, it's probably the next best thing.
Is Virtual Travel Free?
Yes, there are plenty of free virtual travel tours accessible online, just as there are also countless others that you have to purchase and can only be viewed by VR (Virtual Reality) headsets.
VR headsets give you an almost real-life experience of what is playing, whether it's a game, training, or a virtual travel tour. Naturally, this would be the superior option, since VR headsets claim to give you the feeling of – as the name implies – reality.
However, since the situation in the world right now is not the most ideal, we're all probably trying to save some cash. And splurgining in a VR headset if you don't already have one is not exactly budget-friendly.
Fortunately, you don't have to purchase any special equipment or pay to go on a virtual travel tour. There is a plethora of free ones which you can find online. The Smithsonian Museum of Natural History offers a wonderful experience, just like the Rijksmuseum in Amsterdam and even the Louvre.
Below, we have listed some great virtual tours to satisfy your wanderlust, even as you practice social distancing.
Virtual Travel Through Art and Culture
The popular, crowded museums of the world have closed as countries enforce social distancing rules to control the pandemic. But, luck has it that some of them offer extremely vivid and high-quality virtual tours of their premises. So, for the art and culture lovers, there is a lot of entertainment as you wait out the pandemic in your home.
The Vatican Museums
The Vatican Museums have the world's most important Roman sculptures and masterpieces of the Renaissance period art. And for a while now, they have offered art lovers the opportunity to see these wonders from the comfort of their own home, with amazing quality virtual tours.
You can go on an interactive virtual tour through the Sistine Chapel, the Room of the Chiaroscuri, the Pio Clementino Museum, the New Wing, the Chiaramonti Museum, Raphael's Rooms, and the Niccoline Chapel.
Visit the Vatican Museums here.
The Smithsonian Museum, Washington, D.C.
The Smithsonian National Museum of Natural History has the world's largest natural history collection in the world and one of the best virtual travel tours we've come across so far. There's a map on the upper right corner which you can use to navigate the different parts of the museum, and everything is detectible with astonishing quality. You can see fossils, dinosaur bones, beautiful butterfly collections and our early human ancestors through millions of years of our world's history.
Visit the Smithsonian National Museum of Natural History here.
Rijksmuseum, Amsterdam
Another great virtual tour is the one offered by the Rijksmuseum in Amsterdam. Not only can you "walk" through the museum and see all the masterpieces, but the virtual tour also allows you to listen to fascinating background and information about each one – so it's basically an art history lesson as well.
Visit the Rijksmuseum here.
The Louvre, Paris
Undoubtedly one of the most famous museums in the world, the Louvre also offers a virtual tour of its premises. You can select one of the presentations out of the museum's many exhibition rooms and galleries, and you will be redirected to a virtual tour of the room. Follow the arrows to move through the different areas.
Visit the Louvre Museum here.
The Hermitage Muesum, Russia
The Hermitage Muesum in St. Petersburg, Russia is the second largest museum of art in the world, and indeed, it has an impressive collection and a lot to see. It is sure to keep you occupied for hours, and you may still not see it all.
The Hermitage Muesum virtual tour is just as impressive, with a detailed list of its countless exhibitions and interactive experience.
Visit the The Hermitage Muesum here.
Virtual Travel in Nature
While you can easily enjoy nature without risking yourself or others during the pandemic, not everyone has the opportunity to do so. Most people living in cities don't really have easy access to nature.
Fortunately, it's not just museums offering virtual tours. You can find countless mesmerizing virtual reality simulations of natural landscapes online.
Cliffs of Moher, Ireland
The Cliffs of Moher are one of the most popular tourist destinations in Ireland, and it's easy to see why. The views from the 14-km expanse are breathtaking to say the least, like something straight from a Victorian gothic novel – but much less gloomy… at least if it's not raining.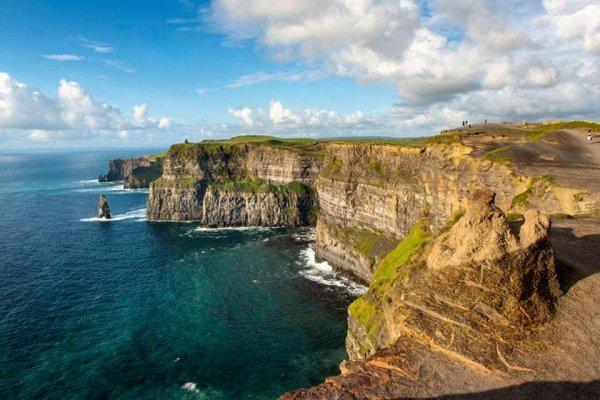 You can see the views from the Cliffs of Moher in 360°-visuals here or have an interactive experience here.
Victoria Falls, Zambia
Zambia is known for its rugged terrain and diverse wildlife, but its most popular landmark is without a doubt the majestic Victoria Falls, which is simultaniously the world's largest waterfall.
Although seeing the Falls for yourself must be unique on its own, a virtual tour may give you such as rich of an experience, simply because you will never be able to see it from an aerial point of view – unless you're a bird.
See an aerial 360° virtual tour of the Victoria Falls here.
Grand Canyon, Arizona
The US National Park Service offers 360° pictures of the Grand Canyon's popular spots with amazing clarity, such as the South Rim, Hilltop Ruin, and the Furnace Flats. You can see the layers of red rock showing the millions of years of geological history.
Visit the Grand Canyon here.
Central Park, New York
If you've ever visited, seen a movie, or read a book about New York City, then you know that Central Park is one of its most popular landmarks. In fact, it is one one the most filmed places in the world. So, naturally, it's not surprising that someone will offer a virtual travel tour of Central Park. You can find it here. Click on the bottom right picture icon to make each visual 360°°.
Jerusalem
Jerusalem is known as one of the world's main pilgrimage destinations. This 360° video allows you to go on a day's journey through the city, starting from the Western Wall Plaza, to the Church of the Holy Sepulchre, to the Al-Aqsa Mosque, to the Old City Markets, and everywhere in between.
Scuba Diving
No (virtual) trip is complete without scuba diving – and fortunately there are plenty of scuba diving virtual travel tours online. The US National Oceanit and Atmospheric Administration offers virtual reality dives into dozens of different locations. You can find them here.
Solar Eclipse
And finally, let's leave Earth completely. If you've ever wondered what a solar eclipse looks like from space, here's your chance to find out. This is a mesmerizing 360° virtual reality video of Earth from 38,000 meters above sea level, just as a total solar eclipse takes place.
You can watch it here.
More Virtual Travel Tours
Art: Google offers a wide variety of free 360°° videos of art, science, nature and even performances at iconic venues such as the Opéra National de Paris or Carbegie Hall.
Nature: If you visit National Geographic's YouTube page, they also have breathtaking 360°° videos of nature, including trips to Iceland's Glaciers, encounters with elephants, and trips into the deep blue sea.
Theme parks: You can even go on virtual theme park rides. Lately, the trend of uploading a 360° video of a park ride has been taking hold on YouTube, and a lot of the videos are very high quality.
While we may find ourselves going stir-crazy sometimes during the lockdown, especially now that the weather's started getting warmer, there's a lot you can do to keep occupied. This is your chance to learn something new – maybe during your virtual trip to a museum?
We've never had more possibilities of entertainment than at this point in time, so take advantage and stay safe.
Did you find this page helpful?