Kosovo PM Ramush Haradinaj
Reason: For allegedly supporting an attempt of MPs to abolish a Special Court for war crimes
Kosovo's Prime Minister Ramush Haradinaj might have a few more privileges than his fellow citizens from his isolated country, like getting a visa for a shorter period with fewer procedures. However, in January he had a glimpse of what his citizens often go through, when he had to cancel a visit to the United States the authorities of the latter refused to issue him a visa, to attend events in Iowa organized by the National Guard.
Many Kosovo analysts believe that the refusal came as a response to the latest incentive of Kosovo Lawmakers to abolish the new War Court announced in December, which has especially elicited strong reactions by the US ambassador Greg Delawie, the UK ambassador Ruairi O'Connell, the US Department and the main countries of the European Union.
However, PM Haradinaj finally received his visa to travel to the US, on February 9, to attend the Prayer Breakfast.
Kosovo is the only country in the Balkan that has been denied visa liberalization by the EU countries so far. Kosovo passport holders can visit only a few countries without a visa and is listed among the least powerful passports of the world.
Serbian General Ljubisa Dikovic
Reason: For allegedly being involved in war crimes in Kosovo
The Serbian government might be trying to reintegrate into institutions those accused but not tried for alleged war crimes, but Washington is not so 'liberal' when it comes to such cases. This is why the US Embassy in Belgrade refused to issue a visa to Serbian General Ljubisa Dikovic in January, who was scheduled to take part in a counterterrorism conference in Washington, since October 2017.
And though the US authorities refused to comment the issue, it is believed that the reason behind the refusal of Dikovic's visa application might be the allegations that he has been involved in war crimes committed by his troops in the 1998-99 war against Albanian civilians in Kosovo. Despite the fact that Serbian human rights groups have accused Dikovic of such crimes, he has never been tried or convicted of the alleged crimes.
In October Gen. Ljubisa Dikovic alongside Gen. Vladimir Lazarevic, who had been sentenced to 14 years in prison by a UN war crimes tribunal for taking part in a bloody crackdown against Kosovo's Albanians in the 1990s, and former Gen. Bozidar Delic had been invited to teach at the Balkan country's military academy. The three of them accused by Serbian rights groups for war crimes in Kosovo and Bosnia, which groups also demanded the removal of Vulin from his post for "rehabilitating" Lazarevic, at the time.
Israeli singer Amir Benayoun
Reason: For allegedly offending Obama in a song
To Israeli singer Amir Benayoun it was only a song dedicated to the US president he did not fancy and did not agree with his politics, but the US authorities might have taken it closer to the heart, making the former pay with his visa.
In January this year, the US embassy in Israel refused the issuance of a visa to popular Israeli singer, Amir Benayoun, scheduled to perform at the UN concert on Holocaust Remembrance Day at UN headquarters in New York.
And though the embassy resonated declining Benayoun's visa with singer's failure to convince the US consul of his intention to return to his homeland after the concert, according to the media the actual reason for Benayoun's visa denial may be a bit more sinister.
In 2015, during the Obama presidency, the singer had written and performed a song about a "corrupt, cruel" pet crow that he named Obama, to which he wishes a swift death. It seems like there are US State Department officials, including many who work at the embassy in Tel Aviv, who still hold a grudge at Benayoun for insulting their former beloved president.
However, on January 25 the US authorities decided to reverse their decision, and granted Benayoun with a visa.
Football legend Diego Maradona
Reason: For allegedly calling Trump a 'puppet'
To many he will definitely go down in history as one of the greatest football legends, to the US authorities he is still a convicted drug user whose visa has been revoked and refused at the end of the last century. Or maybe the reason why the former football player Diego Maradona has failed to obtain a US visa in January this year, is even simpler than that.
According to Maradona's lawyer Matias Morla, the visa rejection came after the football legend insulted Trump during a TV interview, when he was asked about his thoughts on Trump. The former Argentina player and manager, who is not a fan of the US president, called him a 'chirolita', which is a common insult in Argentina that refers to dummy people who are under the orders of others as puppets.
Maradona, who now serves as the coach of Al Fujairah club based in the UAE, was in the process of obtaining a visa in order to visit Miami for a court case involving his ex-wife Claudia Villafañe.
Argentine Ex-Foreign Minister Hector Timerman
Reason: For being accused of colluding with the Iranian regime to discharge Tehran of its responsibility for the bombing of a Jewish center
The Former Foreign Minister of Argentina Hector Timerman and ex ambassador to the United States, was surprised to find out the US had revoked his visa when he tried to take a flight to the NYC to undergo his cancer treatment.
Timerman, found out on January 9, that the US had revoked his visa because of the accusations against him for colluding with the Iranian regime to discharge Tehran of its responsibility for the bombing of a Jewish center in the Argentine capital Buenos Aires in 1994.
The 64-year-old former minister who alongside several senior Argentine officials, among whom the former President Cristina Fernandez de Kirchne, have been indicted on December 7, last year by a federal judge to face possible treason charges over a 2013 pact with Iran which later was declared as unconstitutional.
However, on Wednesday, February 7 the Argentine Foreign Ministry announced the US State Department had agreed to issue a visa to Timerman on humanitarian grounds so that he will be able to travel to New York to continue undergoing his cancer treatment.
Spanish singer Isabel Pantoja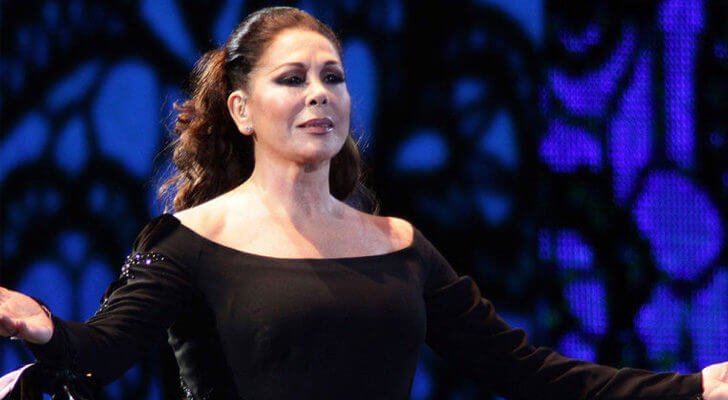 Reason: For being sentenced of money laundering
Popular Spanish singer Isabel Pantoja might have thought that she had paid the price of her crime when she was finished her probation on October 2016, after serving in prison for almost two years as a convict for money laundering. But it seems like the US do not wish to deal with people with delinquent background anymore, even if they are rich and famous.
The singer, who was scheduled to perform in Miami on February 11, was refused her visa application from the US authorities. According to a statement issued by the Universal record label, Pantoja's visa application has initially been approved, but then it got rejected after a second revision.
Though there was no official confirmation, the alleged reason behind Pantoja's visa rejection is that 61 year old artist has been accused and sentenced to two years in prison for money laundering alongside her lover, the former mayor of Marbella town.
Did you find this page helpful?