Two million non-UK EU nationals have applied to stay in the United Kingdom post-Brexit, under the EU Settlement Scheme. According to the Home Secretary Priti Patel, internal figures show that Home Office has admitted two million applications so far, despite that the EU Settlement Scheme statistics released on October 9 show that 1,860,200 applications have been received until the end of September 2019.
While 231,500 applications were received during the testing phase, the rest of applications were filed from April through the end of September. While April saw 389,900 applications lodged, the numbers increased to 520,600 in September.
Polish, Romanians, and Italians filed most applications so far, with the three of them filing 828,600 applications together. Another 162,500 applications were filed by Portuguese nationals, 115,700 by Spanish and 96,100 by Bulgarians.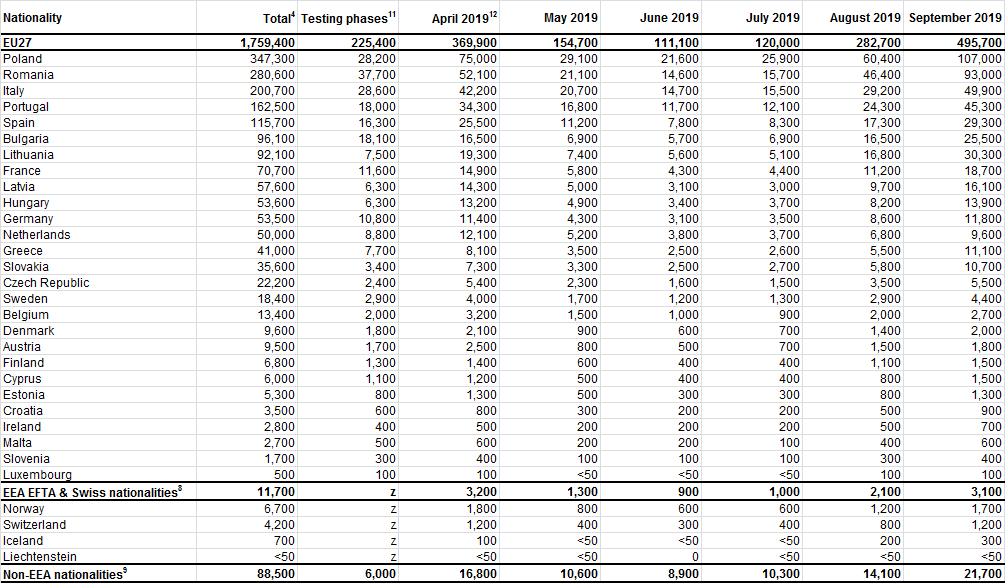 As per the British state with most applications received, England leads with more than half:
England – 1,704,100
Scotland – 92,700
Wales – 29,300
Northern Ireland – 28,700
Home Secretary Priti Patel said she was thrilled with the number of applications from EU27 citizens who wish to secure their immigration status under UK law through the EU Settlement Scheme
"EU citizens have made a huge contribution to this country and will play a key role in cementing Britain's status as an outward-looking, global leader after Brexit," she also said.
Just as Secretary Patel, the Minister of State for Security and Deputy for EU Exit and No Deal Preparation Brandon Lewis believes that it is fantastic new that there have been two million applications to the EU Settlement Scheme.
"EU citizens are our friends, family and neighbors and we want them to stay. It is fantastic news that there have been two million applications to the EU Settlement Scheme," he says.
The EU Settlement Scheme has been created for EU, EEA or Swiss citizens and their family members living in the UK. It grants eligible applicants with settled and pre-settled status, enabling them to continue living in the UK after 30 June 2021. If the UK leaves the EU with a deal, the deadline for applying for the status is 30 June 2021. If there is a no-deal exit, then the deadline for applying will be 31 December 2020.
Home Office has been in a continuous attempt to raise awareness on the Scheme. Currently, it is holding a series of innovative pop-up events across the UK, where its staff answers questions and help people apply in person.
According to Minister Lewis, there is plenty of support and information on offer to help people apply and get the status they need, including a helpline that is open seven days a week, a toolkit for employers and an army of voluntary organizations up and down the country to support hard-to-reach EU citizens.